Travel Log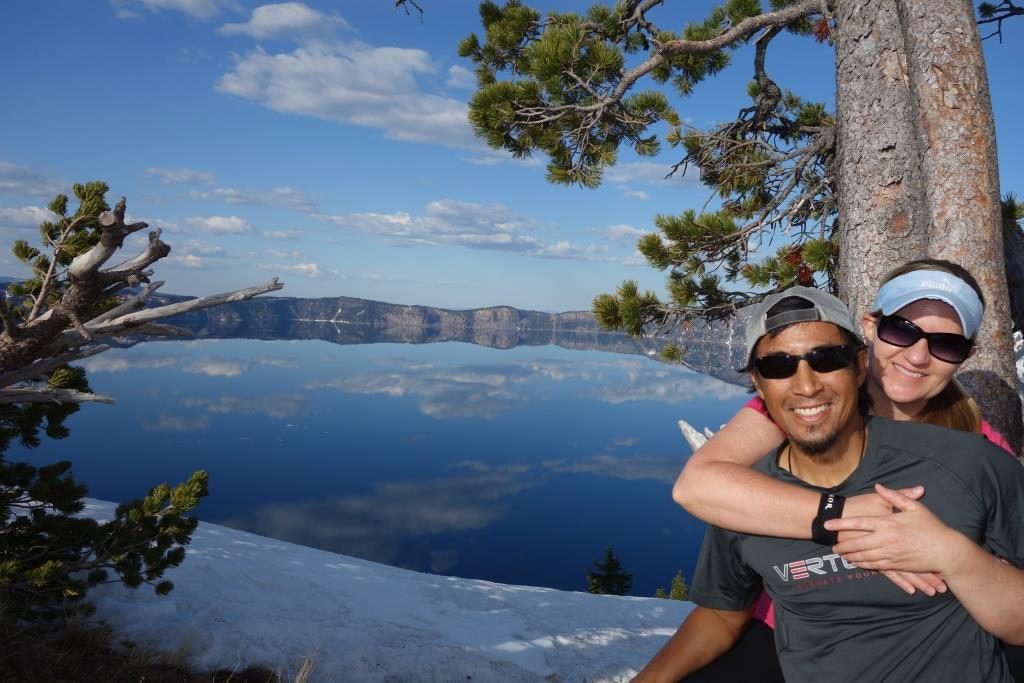 Crater Lake, Oregon (4/18/2016 – 4/20/2016)
On our way to our next stop in Oregon, we decided to detour towards Crater Lake.  Neither one of us had ever been to Crater Lake, but we both always wanted to see it live and in person.  The drive was beautiful and we enjoyed clear views of a snow-capped Mt. Shasta. The elevation increased quite a bit and we learned that when you are driving a 15 ton rig, you need to take the climb a litter slower. After a lot of hill climbing, our engine started heating up.  On the biggest hill right before you cross into Oregon, our engine heat warning started flashing.  Luckily we began a downhill descent and it cooled back down.  We took the subsequent hills a little slower and that seemed to help.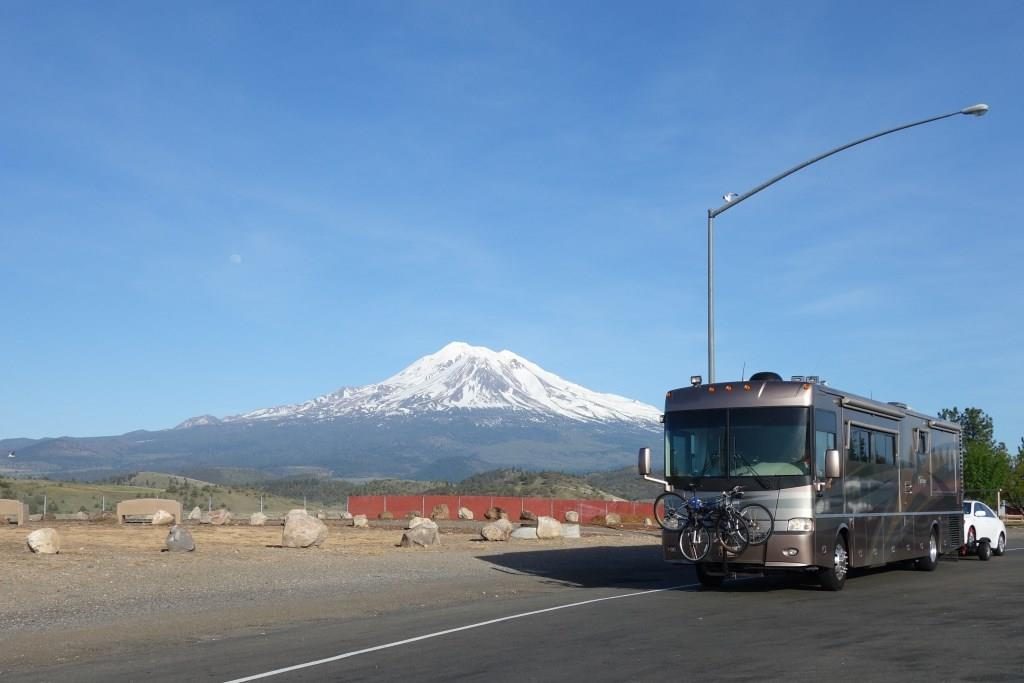 We pulled into the Crater Lake RV Park in Prospect, Oregon, just as the sun set. We chose this location because it is just under an hour from Crater Lake and is one of the closest RV parks to the lake. This park was not part of our membership so we paid a nightly fee of just $28. The camp hosts were very friendly and actually came from Colorado, not far from where Jon grew up. They made recommendations for several things to check out locally before heading to Crater Lake.
We had a great pull through site which meant we didn't have to worry about disconnecting our tow dolly and backing the rig in to a site. That was a big time saver. Just behind our site was a trail to a dam and a beautiful creek below. We were advised not to hike down there at night  because of cougars in the area, so we opted to wait for morning.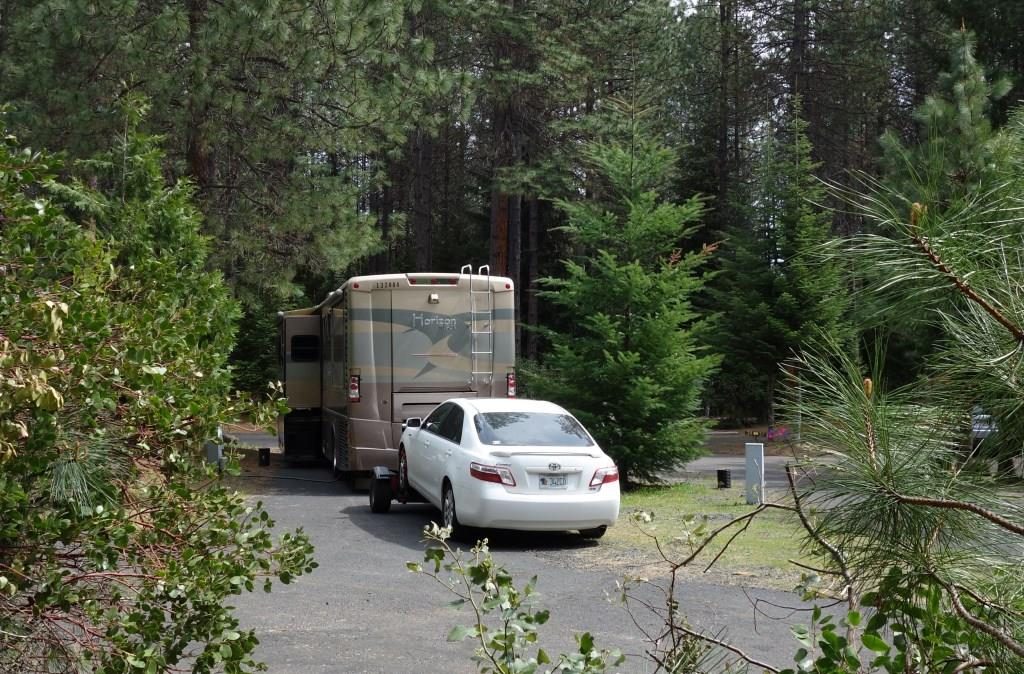 The following morning we decided to check out the local falls before heading to Crater Lake in the afternoon. A mile and half walk through the town of Prospect led us to a beautiful bridge with gushing falls below. There were warning signs about this section being class 5 rapids and only for expert level kayakers and rafters.  Looking at the falls, we weren't sure how anyone would survive going down these!  We were able to hike under the bridge and on a few different trails to sights below. We saw the Avenue of Giant Boulders, Mill Creek Falls, and Bear Creek Falls. Stunning! These sights aren't well advertised so we were glad the locals recommended them to us. They were as impressive as any waterfalls we had ever seen, but not many people know about them. We talked with some of the locals as we walked through town and they said they were meeting that afternoon to discuss the possibility of becoming a state park. Great idea!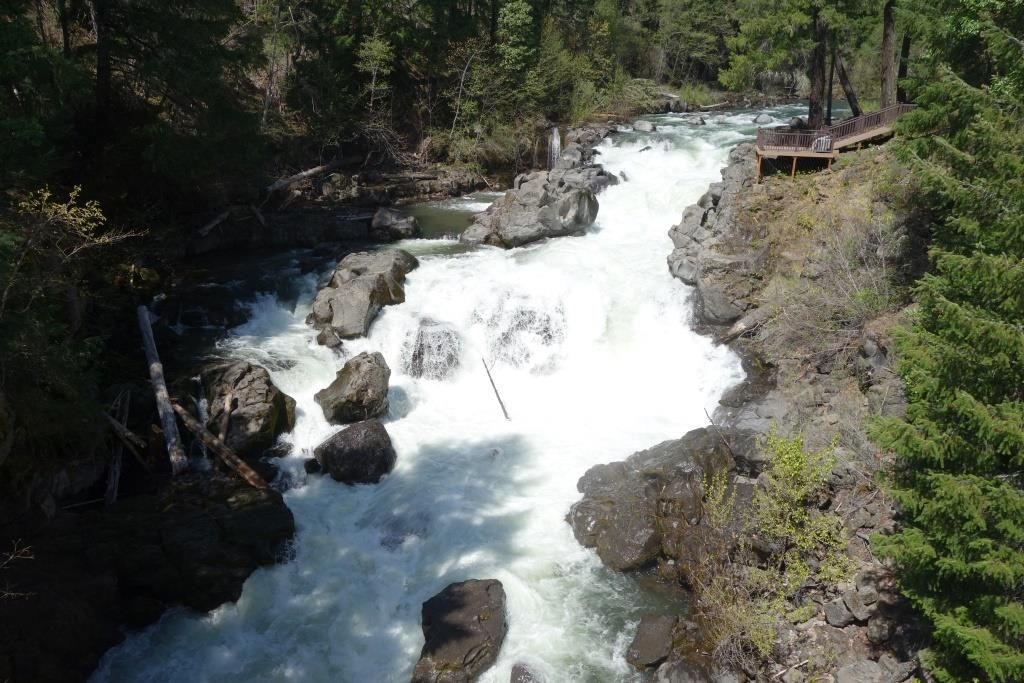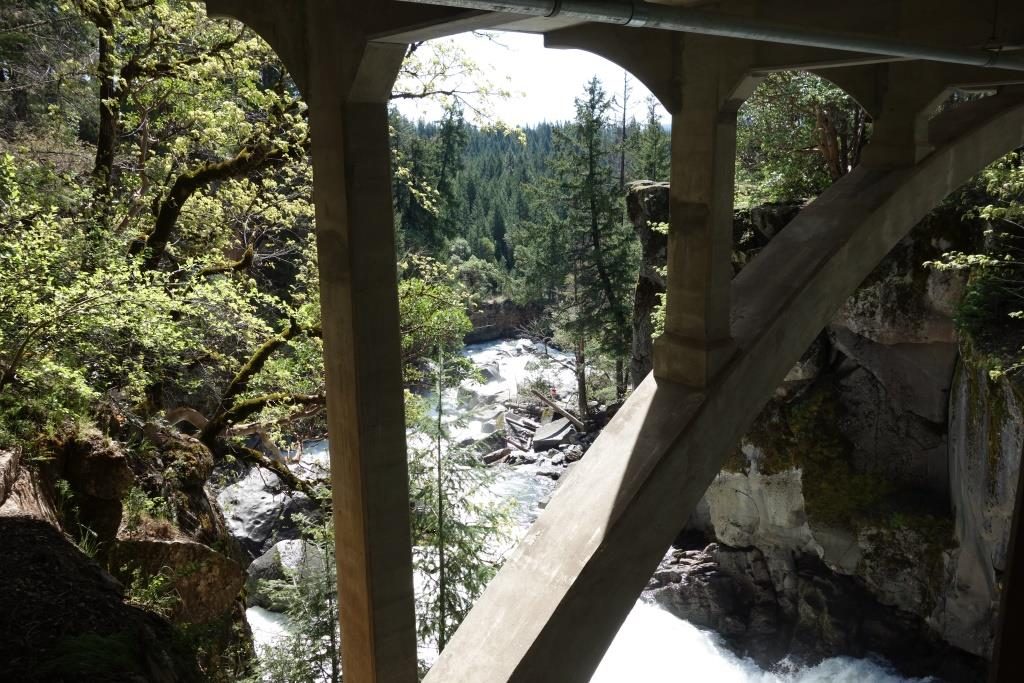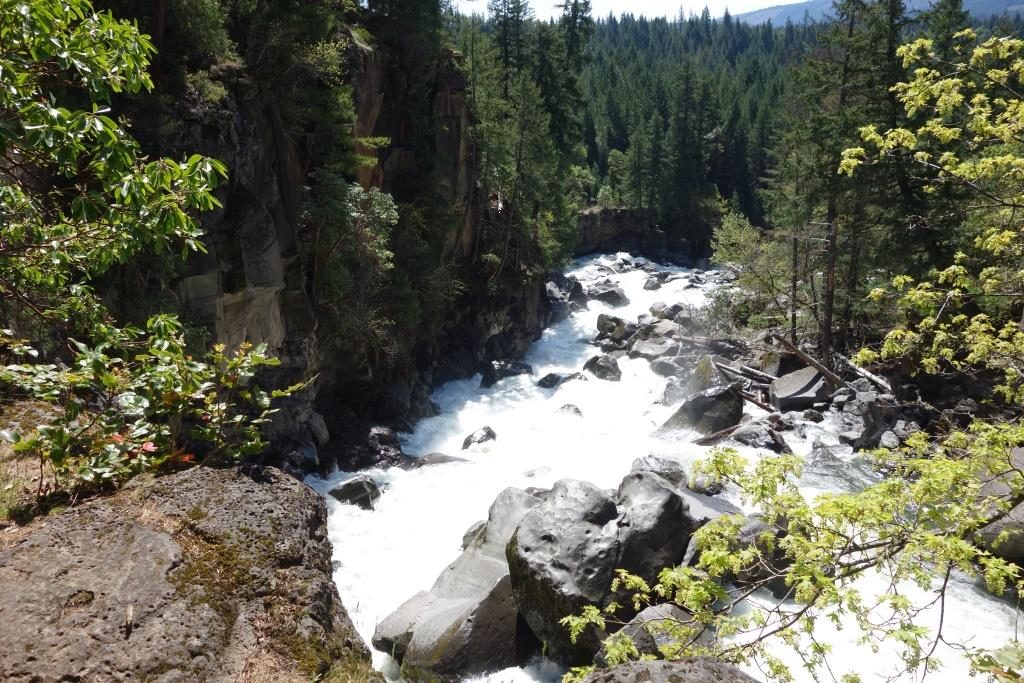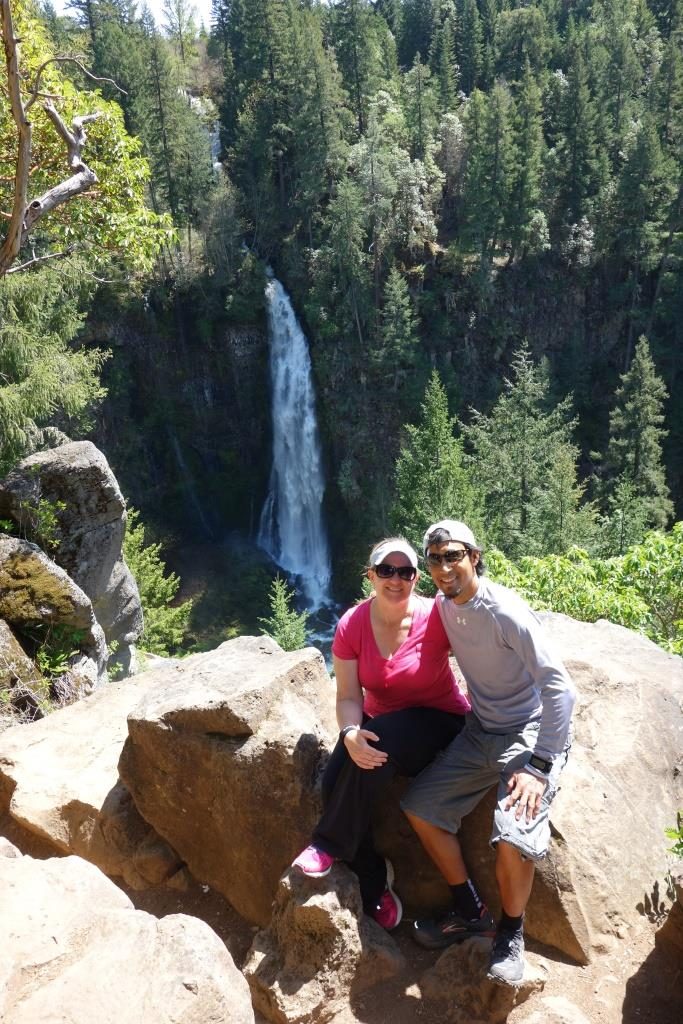 We headed back towards camp and then made the drive to Crater Lake. We didn't realize that Crater Lake is one of the snowiest places in the United States and sometimes snows into June.  Luckily some fellow campers at our previous site advised us to check the weather before booking our stay here. It had snowed quite a bit the previous week, but forecasts were for warmer temps during our stay.
We were pretty happy to see sunny blue skies the entire way up. As we climbed in elevation, we started to see a little snow on the ground. By the time we made it to Crater Lake, the snow banks were about two or three times as high as our car! The roads were clear and dry which made for an easy drive there. It was still sunny and warm, despite the snow, so short sleeves and sunglasses were a must.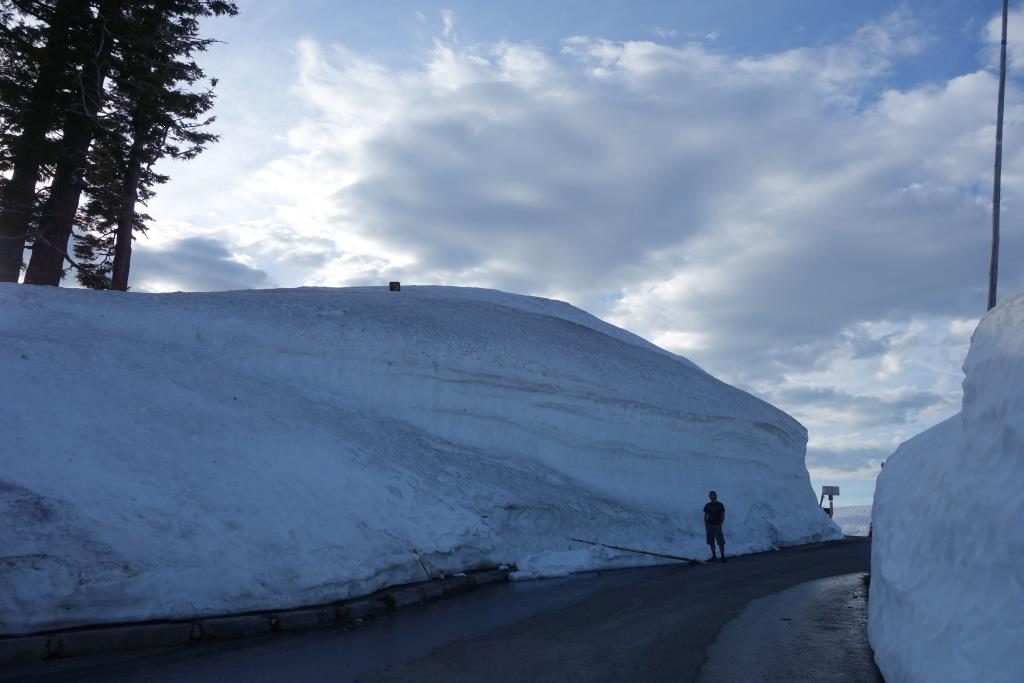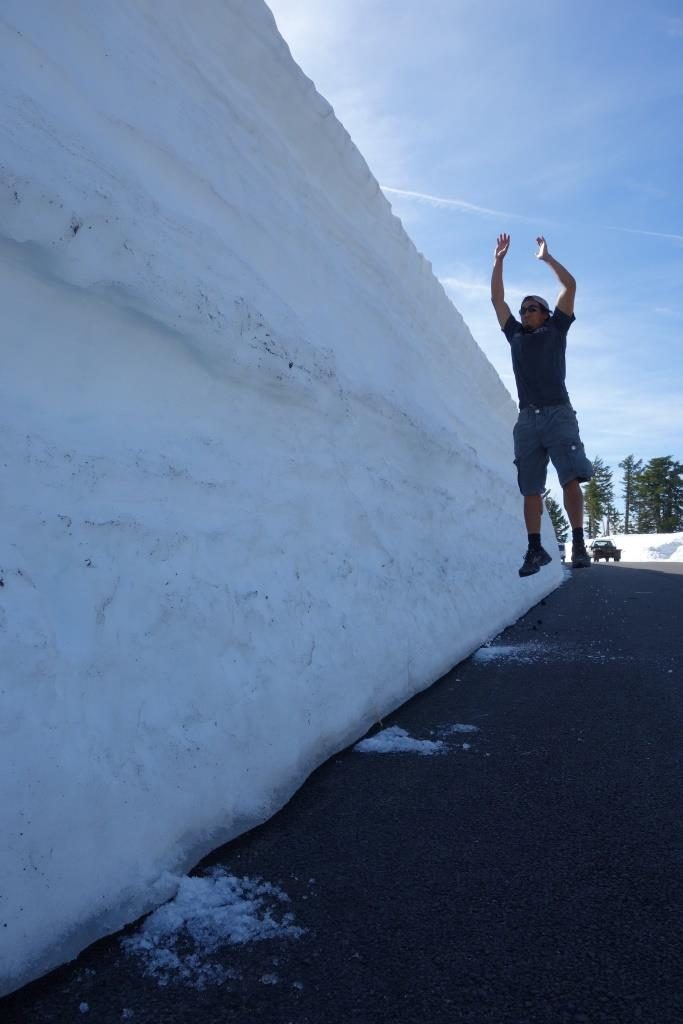 This was our first visit to Crater Lake so we're not sure what it usually looks like, but we were both happy that there was snow for our first experience here.  The white snow juxtaposed with the blue water really intensified the colors.   Spectacular, breathtaking…words cannot describe the serene beauty of the lake. It was so quiet, with no detectable winds or movement on the lake's surface. The lake was so still and reflective of the mountains and skies that it was difficult to determine where the water began. As the clouds moved to hide or expose the sun, the colors of the lake changed. We spent several hours here photographing the lake from every angle we had access to. Several areas were roped off due to threat of avalanche. There were a few spots where the snow seemed to disappear into a cliff with a several hundred foot drop to the lake below. We were totally fine avoiding those areas, unlike some of the crazy tourists we saw there who were ignoring the signs. Crater Lake did not disappoint and we highly recommend it as a must see destination!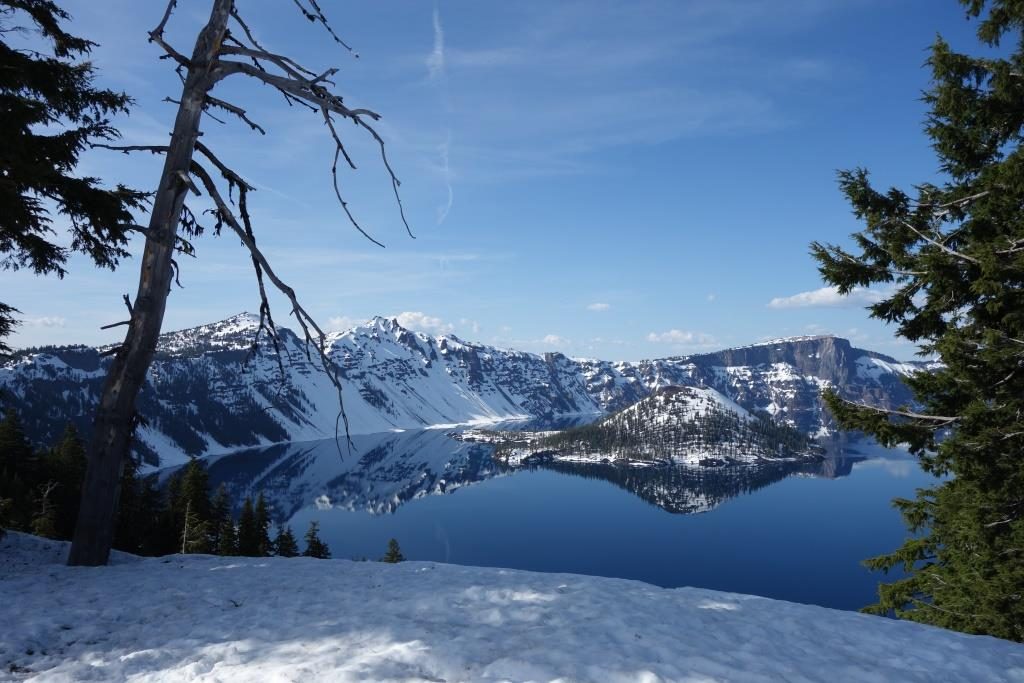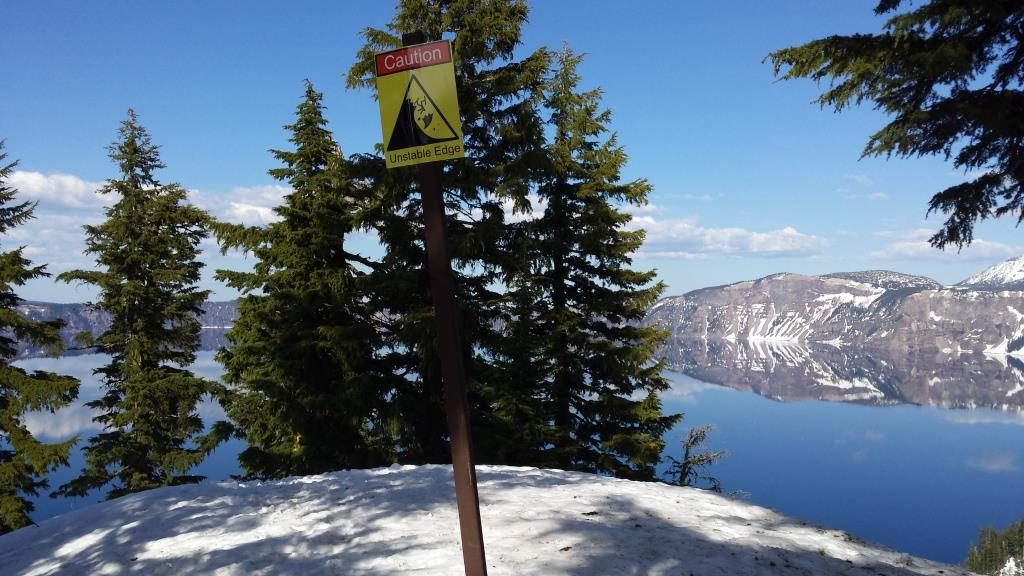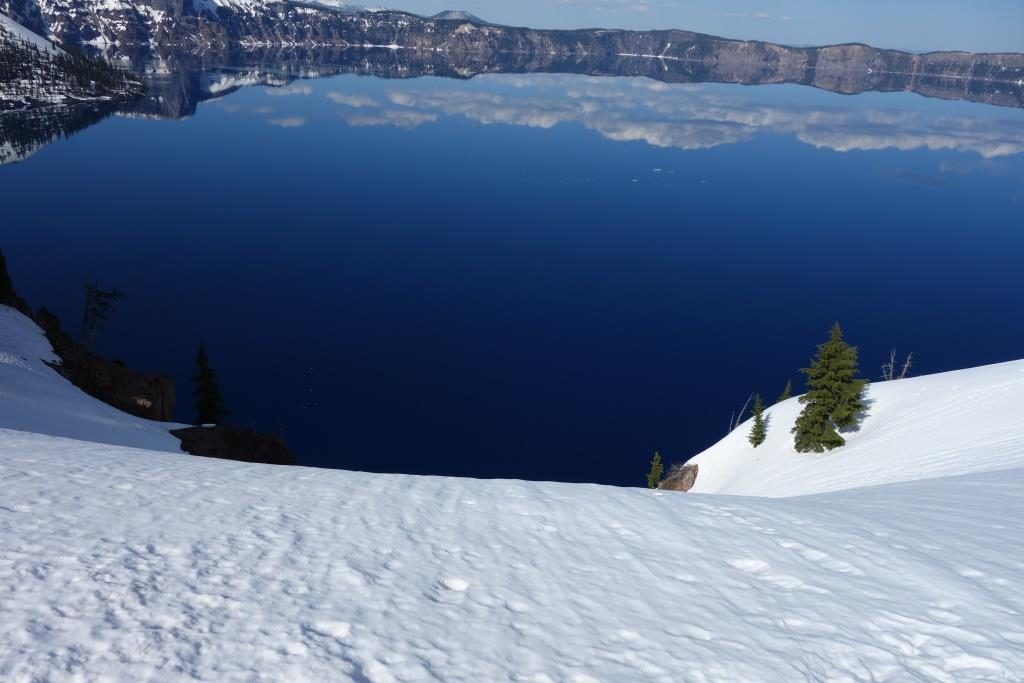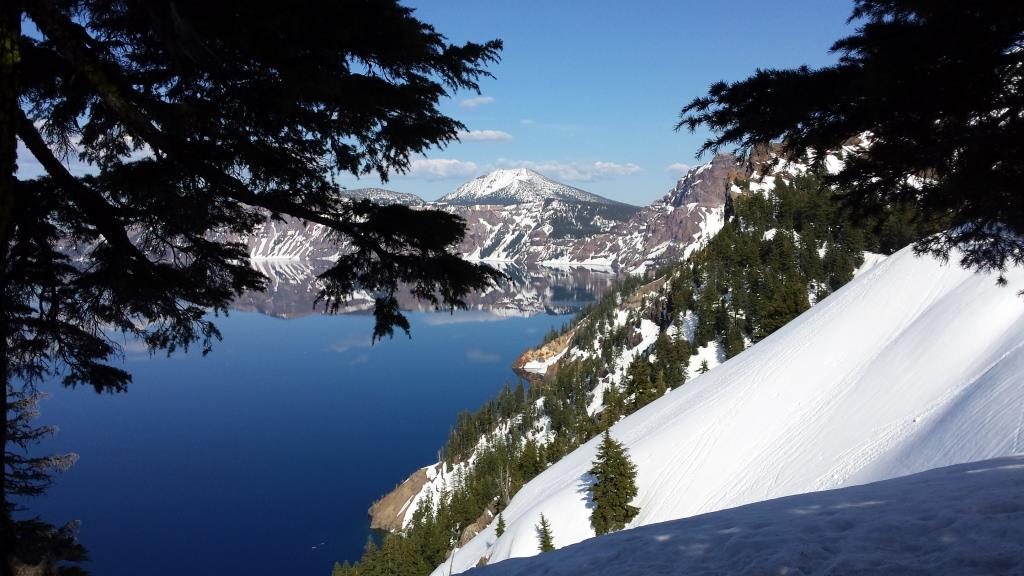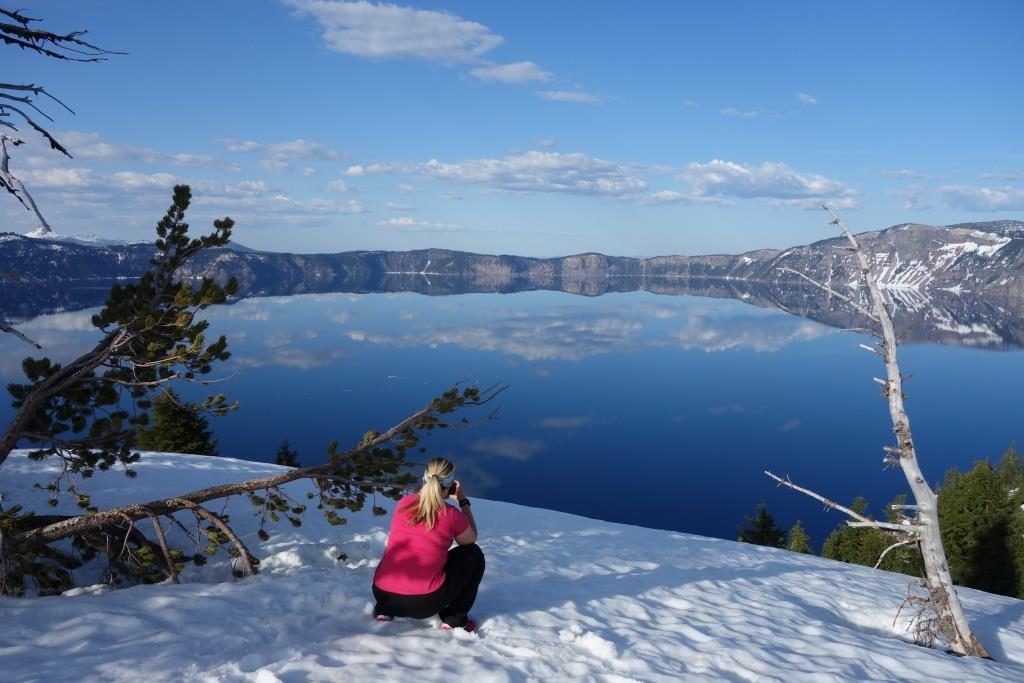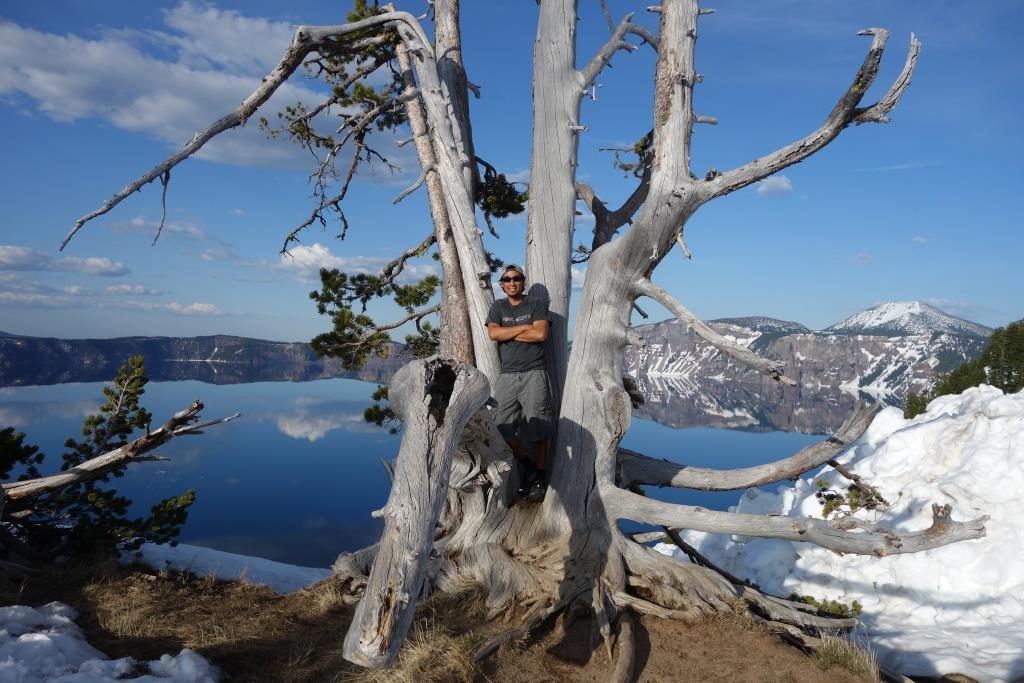 We headed back to camp and packed up to leave the following morning. Next stop: Whaler's Rest RV Park in Newport, Oregon. We look forward to a scenic drive up portions of Highway 101 and a campground just across the street from the beach!