Travel Log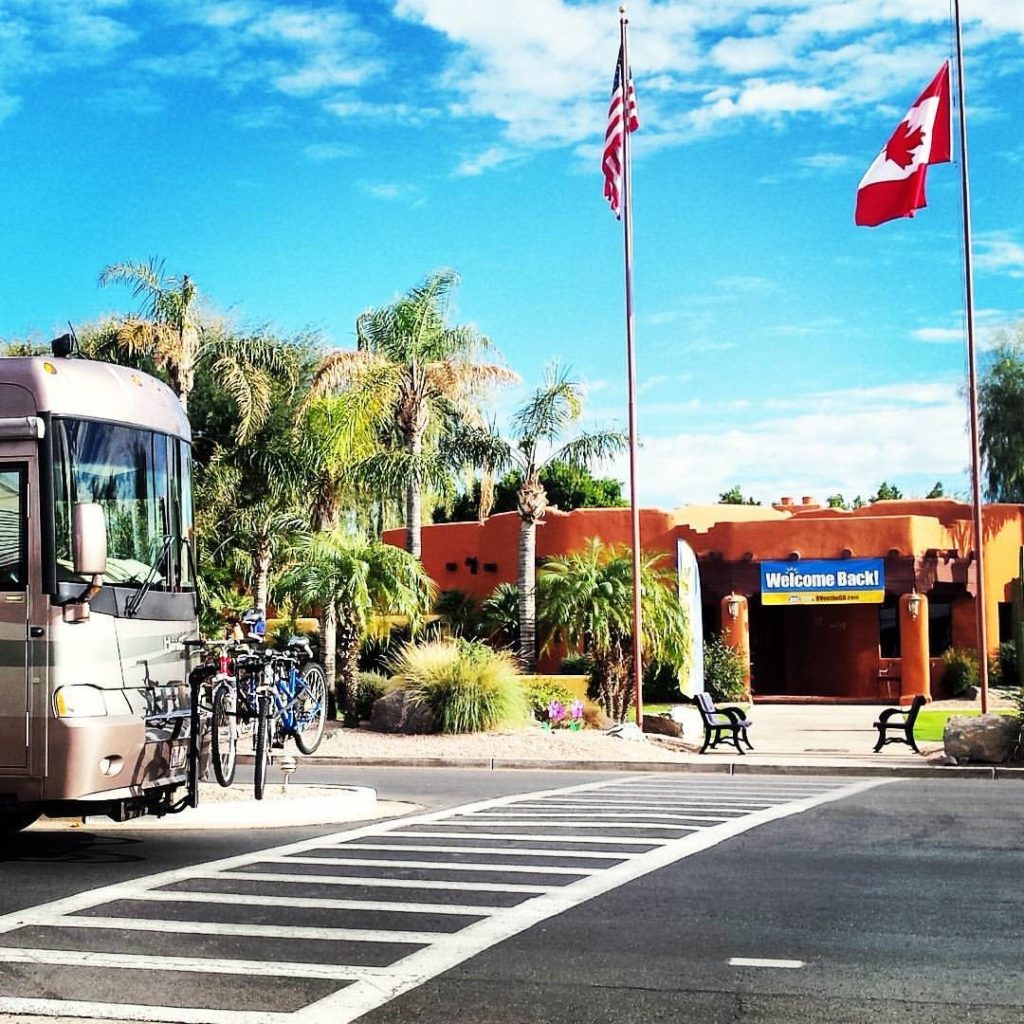 Florida to Arizona (11/28 – 12/15)
It was time to head "home" for the holidays and we had just over two weeks to make it to the Phoenix Metro area of Arizona.  We would travel up the Florida Panhandle to Interstate 10, which would then take us straight to our destination. Our plan was to alternate long driving days with days of sightseeing and rest.
Madison, FL
11/28 – 11/30
192 miles from Orlando, FL to Madison, FL
Deerwood Inn Madison Campground
Highlights:

Our first stop was in Madison, which was just under an hour drive to Tallahassee. We toured the state capitol and briefly visited the Museum of Florida History.

Wide open pull through spot

Florida State Capitol

The old state capitol building is right behind the new building.

We were surprised how nice the museum was since it was free!

It was a treat to see an old school Model-T "Tin Can" RV.
Holt, FL
11/30 – 12/3
215 miles from Madison, FL to Holt, FL
River's Edge RV Campground
Highlights:

The drive here started innocently enough, but then we ran right into severe weather. There were severe thunderstorm warnings in our immediate path and a tornado watch about 30-45 minutes ahead of us and heading our way. We pulled over to a rest area, packed emergency bags for ourselves and the cats, and waited. We lucked out and only experienced heavy rains and some winds, before it cleared enough for us to resume our journey.
On our first free day, we drove through Pensacola, across the state border, and spent the day on the Gulf Coast of Alabama. Because of the time of year, it was practically a ghost town, so we didn't have to worry about parking or crowds. The beaches were unbelievably beautiful with fluffy white sand, and turquoise waters. We were even treated to a surprise flyover from the Blue Angels, who make their home in nearby Pensacola. The day ended with a most colorful sunset as pelicans flew by and dolphins swam nearby. What a day!
The next day, we headed to the Gulf Coast on the Florida side. We explored Orange and Destin beaches, where saw more of the same beautiful white sandy beaches and turquoise waters. We were sad to leave the area and would love to plan an extended trip here in the future.

We pulled off the highway at a rest area in Ponce De Leon to wait out the storm.

We listened to our weather band radio for updates on the storm.

There was no sign of the storm at the campground which dried out by morning.

Surprise fly over from the Blue Angels

We loved this restaurant made from shipping containers.

View from under a pier in Gulf Shores

Two dolphins graced our picture-perfect Alabama Gulf Coast sunset.

Beautiful Destin Beach Florida

The combination of colors of the sky, water, and sand reminded us of a Caribbean island.

Jon taking advantage of the powdered sugar sand

Not a bad workout space

We loved the colors at sunset!

Pass Christian, MS
12/3 – 12/6
168 miles from Holt, FL to Pass Christian, MS
TLC Wolf River Resort
Highlights:

It rained pretty heavily the entire time we were here. We took a drove along the Mississippi coast, through Biloxi, and to the Davis Bayou of the Gulf Islands National Seashore. The seabirds were out in full force, and even with all the rain, it was gorgeous!
The following day, we waited for the rain to let up, and then drove along the coast in the other direction to visit New Orleans. We enjoyed lunch at Seed Restaurant, walked along the Mississippi River, and explored the French Quarter until dark.

Our huge pull-thru spot could have fit two of our rigs with tow cars attached!

Stormy day on the Mississippi Gulf Coast

Jon explores a sand bar.

The red, black and blue signs on the building represent storm surge levels from past hurricanes.

Local businesses have adapted by raising up their buildings to survive storm surges.

Torrential rain

The rain subsided enough for us to enjoy another National Park.

Mama turtle teaches her baby how to navigate the swamp.

"Swimming Reserved For Alligators"… LOL

The French Quarter in downtown New Orleans is decorated for the holiday season.

St. Louis Cathedral in Jackson Square

This hotel took Christmas decorating to another level!

The world famous Cafe Du Monde…known for their beignets.

Cafe Du Monde's beignets were not vegan, but we found some tasty vegan ones when we lunched at Seed restaurant.

More Christmas decor in the French Quarter

Steamboat Natchez on the mighty Mississippi River

World famous Bourbon street

On the way out of Louisiana, we passed through a lot of swampland.
Orange, TX
12/6 – 12/7
279 miles from Pass Christian, MS to Orange, TX
Texas Travel Information Center at Orange
Highlights:

We drove through Mississippi and Louisiana, and stopped just across the Texas border at the rest area/information center.
We love these large pull through spots. Just pull in and park at night, and pull onto the highway in the morning without worrying about disconnecting the car, backing in, hooking up, etc.
Behind the information center, there is a long walkway over swamp land. It was quiet and peaceful, and looked like a scene from one of the national parks, instead of a rest area off a busy highway. There were no gators to be seen that morning, but we did spot a cute little turtle.

Perfect pull-thru spot at the rest area

The trail area behind the Welcome Center reminded us of something you would find at a state park, not a rest area.

Good info about snakes

The rest area's Welcome Center even had a small theater to learn about Texas' history.
Lake Conroe, TX
12/7 – 12/9
156 miles from Orange, TX to Lake Conroe, TX (via I-10 & I-45)
Thousand Trails Lake Conroe RV & Camping Resort
Highlights:

This campground is one of Thousand Trails' flagship resorts and was very spacious with great amenities. We didn't have a lot of spare time at camp, but Jon took advantage of the hot tub one night.
On our free day, we drove to College Station to visit the George H.W. Bush Presidential Library and Museum. The former president had been there for an event the day before on the anniversary of the bombing of Pearl Harbor.

Another nice pull-thru spot

Jon somehow injured his shoulder in Destin, so the hot tub was a welcome sight!

The campground even had a place to wash your RV.

George H.W. Bush Presidential Library

We really enjoy the history lessons these Presidential Museums provide.

George's oval office

Jon reviews some top secret documents in the situation room.
Medina Lake, TX
12/9 – 12/11
278 miles from Lake Conroe, TX to Medina Lake, TX
Thousand Trails Medina Lake RV Campground
Highlights:

We returned to the campground we spent 17 days at back in August. It was so hot and humid in August that our air conditioner struggled to keep up and we had to hang out in the pool to cool off. It was a much different experience now with almost freezing temperatures. The park is huge and with it being off-season, it felt like we were the only guests there. One thing we loved about this park is that there are deer all over the campground.
On our free day, we drove into San Antonio to experience the Riverwalk at Christmas. The trees overhead twinkled with holiday lights and the water taxis moved guests and carolers around the waterways all night. Our favorite Christmas tree was just down the road in front of the Alamo.

Gorgeous skies on the way to Medina Lake

This section of the campground was wide open.

Cool, historic buildings on San Antonio's River Walk

Cozy Christmas setting in one of the hotels

We loved the lights along the River Walk.
Fort Stockton, TX
12/11 – 12/12
324 miles from Medina Lake, TX to Fort Stockton, TX
West Pecos County Rest Area, Westbound
Highlights:

After a long day of driving, it was nice to pull just off the highway into a pull through spot at the rest area. There is beauty everywhere if you just look.

Even in a rest area you can find beauty!
Deming, NM
12/12 – 12/14
327 miles from Fort Stockton, TX to Deming, NM
Hidden Valley Ranch
Highlights:

The campground was off I-10 and then 7 miles down a bumpy, dusty gravel road. After another long day of driving, it was nice to stay put for a couple days.
The campground was quiet and peaceful, and a welcome return to the desert. We enjoyed the camp's hiking trails and blazing sunsets.

Seven miles of dusty, gravel roads and free roaming cattle

Elevated view of our RV and car

Jon takes a quick break from our hike.

Panoramic views from our camp site

Another award-winning sunset
Picacho, AZ
12/14 – 12/15
267 miles from Deming, NM to Picacho, AZ
Picacho Peak State Park Campground
Highlights:

We finally made it back to Arizona! We stopped for a night at Picacho Peak State Park.
The RV campground sits at the base of mighty Picacho Peak. We had a large pull-thru site with windshield views of the peak. We didn't have time to hike the peak before heading to the Phoenix area, but enjoyed a walk around the base.

It's nice to be back in Arizona!

Buddy enjoyed the windshield view of Picacho Peak.

The rare occasion that we woke up in time to watch the sunrise

The sun rises over Picacho Peak.

We enjoyed an early morning hike at the base of Picacho Peak.
Mesa, AZ
12/15
73 miles from Picacho, AZ to Mesa, AZ
Monte Vista RV Resort
Highlights:

We stopped at Blue Beacon Truck Wash in Eloy to give the RV and car a good wash before parking for winter.
We have a 3 month reservation at Monte Vista. We stayed for a month earlier this year and really enjoyed our time here.

While waiting in line for the RV wash, we saw this interesting semi-truck with a cab that was the size of a camper.

The rig gets a well-deserved spa treatment.

…and we are back in Arizona for the holidays!
Next up:
We'll look back at 2016 and talk about our long term plans in the next blog post. Stay tuned…