Travel Log

Texas to Maine Roadtrip (8/22 – 9-15)
After the family festivities and some downtime in the San Antonio area, we were ready to continue our journey toward the northeast, with Maine being the stopping point for a bit. It seems easiest to group our adventures by state, so we'll stick with that format for now.
TEXAS
8/22 – 8/24
255 miles from Lake Hills, TX to Whitney, TX
Thousand Trails Lake Whitney RV Campground
Highlights:

We had a full day of driving with a few snafus. It was dark and we took a wrong turn on a rather sketchy looking dead end street. A kind man, who was in his front yard when we turned on his street, guided Jon down the entire street in reverse, straightened the tow dolly whenever it turned, and then jumped in his car and led us through the dark town to the campground to make sure we found it okay. After our previous wrong turn and subsequent run in with an angry and aggressive man, this was such a refreshing experience and reminded us that human kindness still exists in our country.
We planned to play tourist in nearby Dallas, but we were tired and had a lot to do, so instead stayed in. Jon worked on planning for the rest of our journey to Maine, and Cathy and the cats enjoyed a 4 hour nap. Ahhhh…much needed!
We have connected with many people in the fulltime RV community (yes, there is a rather large community of us out there!) on social media. We discovered that we were not only at the same campground as one of our connections Ryan of @leaving_little_london, but were parked right next to each other! Because we came in after dark, we hadn't seen our neighbors or we would have recognized his rig. Sadly we were there for just a short time so we only met briefly as we were getting ready to hit the road that morning. Nonetheless, it was fun to meet someone in the same boat as us who absolutely "gets" why we are doing this.  We are headed in opposite directions, but hope to cross paths again with them in the future.  It's funny just how small the RV world is.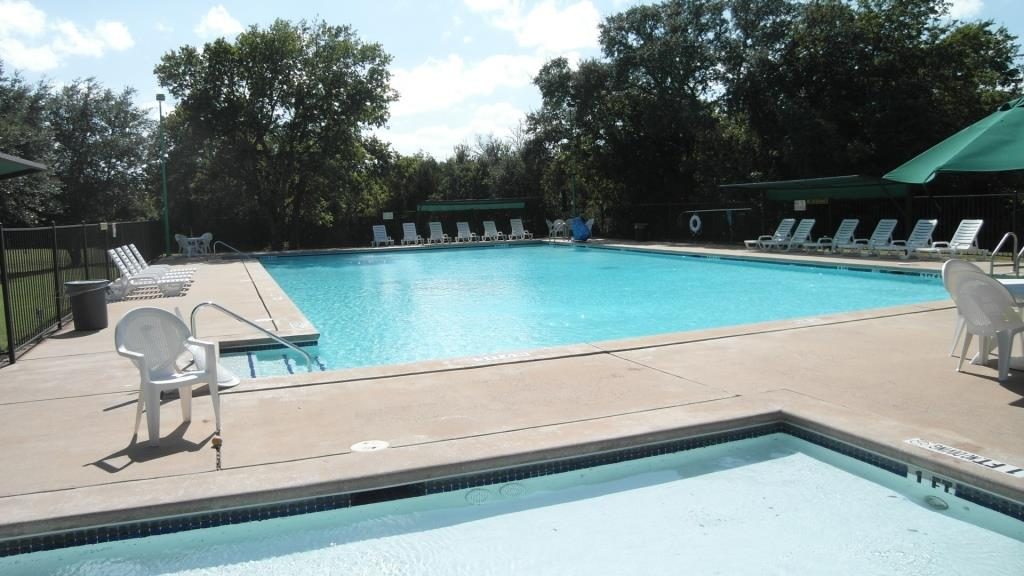 8/24-8/25
400 miles from Lake Whitney, TX to Little Rock, AR
Campground: Maumelle Park on Arkansas River
Highlights:

Maumelle Park was a beautiful spacious park on the Arkansas River. We arrived at dusk, got settled in, and relaxed for the rest of the night. We slept in the next morning and then headed in to Little Rock for some sightseeing. We visited the Clinton Presidential Library, the State Capitol, and Central High School. The library was very well done and we thoroughly enjoyed it. The grounds around it were beautiful and we caught some of our best views of Little Rock from the presidential bridge. After the library, we took a brief self-guided tour of the state capitol building which was palatial and impressive. Finally, we drove to the Central High School campus, which was the site of the desegregation crisis of the 1950s. After reading the exhibits about the desegregation crisis at the library, it was humbling to now stand in front of the building and imagine the courage of the "Little Rock Nine" who stood their ground and did not let racism and bullying win.
We loved seeing the different style of houses in this part of the country and really enjoyed our time here.
As we were leaving camp, we attached our tow car and were preparing it for travel. Before we could place it in auxiliary mode, which is essential for safe towing, we discovered we were locked out. We held the key fob in our hands, but the car would not unlock because the other key fob was inside the vehicle. We learned – the hard way – that the security system becomes confused when the car is locked and there is a key fob inside. The only way to unlock it then, is from inside the vehicle, or with the help of a locksmith. So…we waited for the locksmith. Luckily, he arrived quickly and took less than a minute to actually unlock the vehicle. Lesson learned.

Our spacious campsite

View of downtown Little Rock from the Presidential Bridge

William J Clinton Presidential Library…love the modern architecture

President Clinton's desk in the Oval Office

The Oval Office

Love them or hate them, at least they play volleyball! 😉

Inside the Presidential Library

The Arkansas State Capitol Building in Little Rock

The grand interior of the capitol building

The historic Central High School
KENTUCKY
8/26 – 8/28
443 miles from Little Rock, AR through Tennessee, to Park City, KY
Campground: Diamond Caverns RV Resort & Golf
Highlights:

We drove an hour and a half into Nashville to explore the town. We toured the full-scale replica of the Parthenon which was pretty impressive. It houses the equally impressive 42 foot tall gold-leaf draped Athena. The surrounding gardens were absolutely gorgeous.
We drove around town, passed the state capitol, and drove down Lower Broadway which is like the Vegas of Tennessee – super loud and crazy!
Our campground was just outside the Mammoth Cave National Park. We took the 2-hour guided historic tour through just a small portion of the cave system. So far, over 400 miles have already been explored within the caves and new area is being discovered all the time.

The campsites here were pretty wide open. We were most impressed with our neighbor's tow car which was mounted on the back of his semi!

The Parthenon

Jon poses in front of Athena so you can appreciate just how tall she is.

Nissan Stadium, home of the Tennessee Titans

Lower Broadway in Nashville

The "Vegas" of Nashville

We are making good use of our National Park passes.

The entrance to Mammoth Cave

Before the National Park Service began protecting this site, tourists were allowed to make their mark on the cave ceilings. Many of the signatures are from slaves and major historic figures of the time.

Stairway leading out of the cave
Tennessee
8/29 – 8/31
224 miles from Park City, KY to Pigeon Forge, TN
Mill Creek Resort & Campground
Highlights:

We arrived to camp in the early evening, settled in, then headed to the Island in Pigeon Forge. We walked around for a bit and then settled into rocking chairs to watch the colorful water fountain show.
We were just a short drive from Great Smoky Mountain National Park and were able to spend a full day there. We didn't see much in the way of wildlife, but the scenery was fantastic. The 360 degree view from Clingmans Dome was remarkable.

The campsites were stair-stepped so everyone could enjoy a view of the setting sun.

Tennessee's spin on Mt. Rushmore with their own iconic figures.

This place would have been fun to visit if we had more time.

The Titanic Museum

Cool upside down building

Dancing musical fountain

One of Cathy's favorite color schemes

Jons' favorite

Another one of Cathy's favorites

The most visited park in the National Park system

It was a steep hike to the top of Clingmans Dome, but definitely worth the view.

Layer upon layer of those Great Smoky Mountains as seen from Clingmans Dome

There are many historic structures still standing within the park. This one sits in Cades Cove.

Coming out of a deeply wooded areas to rays of sun shining through the smoky air

As night began to fall, low-lying fog set in everywhere.

We visited two states at the same time!
VIRGINIA
8/31 – 9/6
316 miles from Pigeon Forge, TN to Gladys, VA
Campground: Lynchburg RV Resort
Highlights:

The grounds were beautiful and perfect for walking and exploring. We found relief from the summer temps and caught our first glimpse of impending fall. This week was all about downtime and catching up.
We always seem to park next to the best people. We loved chatting with our neighbors Wayne and Nancy and their adorable dog, Dusty.

Welcome to Virginia!

Nice view of the lake with the clubhouse in the distance

The campground hosted a party in the outdoor pavilion Saturday night.

Sunset view from the boat dock

Lake view at dusk

The campground had a nice pool and hot tub.

Our neighbors
WEST VIRGINIA / MARYLAND
9/6
We drove a short distance through both states on our way up to Pennsylvania and might pass through them again when we head south later this year.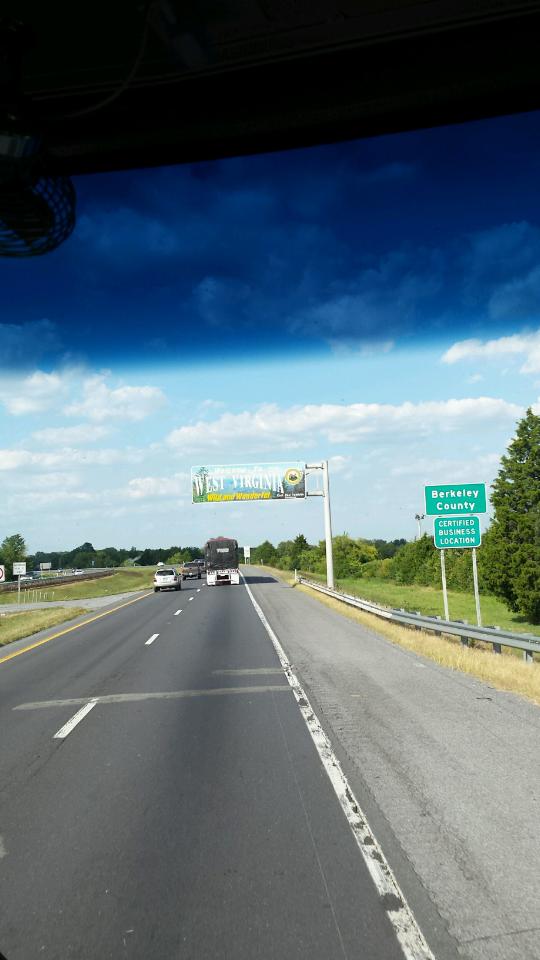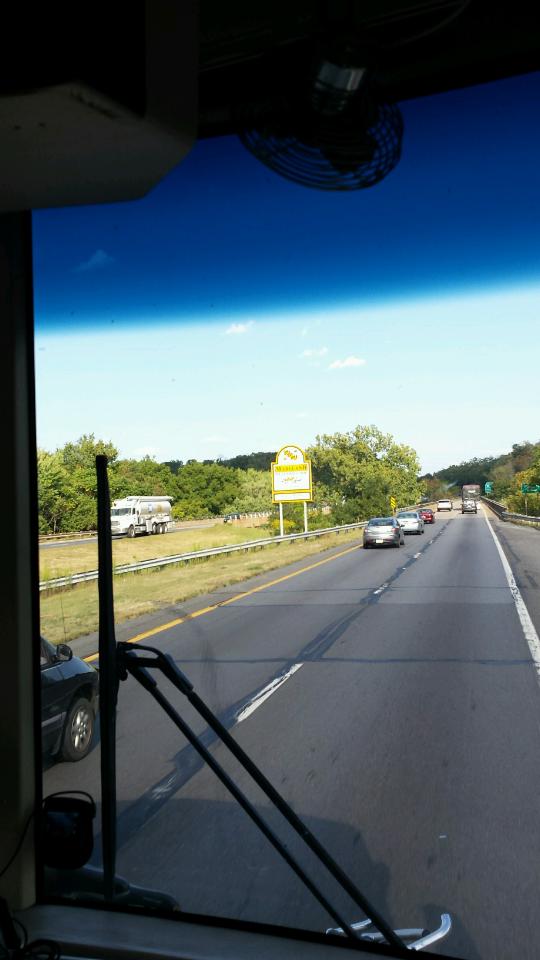 PENNSYLVANIA
9/6 – 9/12
320 miles from Gladys, VA to Lebanon, PA
Hershey RV Campground, Harrisburg Cummins Power Systems
Highlights:

Our campground was sprawling and beautiful. We loved our walks here.
Milton Hershey School
Hershey Factory – It was fun to see how/where the magic happens.
State Capital – Ornate and palatial, "Palace of Art"
City Island – Cool mile long island, accessible by car or foot from Harrisburg, main attraction is minor league baseball team Harrisburg Senators
The National Civil War Museum in Harrisburg was a tasteful, non-biased presentation of historical facts from the view of both sides.
The rich history of Harrisburg is apparent as you drive through the city. The old buildings were amazing!
We were so proud of ourselves for replacing the wheels/tires on our tow dolly all by ourselves. Luckily our friendly neighbor, George, realized that we put all of the lug nuts on backwards and brought it to our attention before we were faced with potentially costly and dangerous error. Oops! Thanks George!
9/12 – spent the night at Harrisburg Cummins shop to have RV serviced in am
9/13 – Met fellow fulltime RVers Ron, Janel, and their dog Pismo in the waiting area. We loved talking with them and the hours went by so quickly. We connected on Facebook before we left so we can follow each other's journeys and hopefully reconnect on the west coast. After service, we hit the road again, heading northeast. We spent the night at a rest area in northern PA, just outside New York.

The pull through site was just big enough for our rig and tow dolly.

We didn't get a chance to use the pool this time around…next time!

Scenic view of the lake and fountain with the campground in the background. Notice the geese doing head stands! lol

This was the nicest sand volleyball court of any of the campgrounds we have been to.

Entering Hershey, PA – "The Sweetest Place on Earth"

Visit to Hershey's Chocolate World

Nice wall art on the way to the factory tour ride

Unfortunately, the factory tour ride didn't tour the actual factory. Instead it had various displays showing how Hershey products are made and packaged.

Our nephew sent us his Flat Stanley…here he is posing at one of the farms at the Milton Hershey School.

Such a unique vehicle!

The Pennsylvania State Capitol in Harrisburg, PA

The dome

There is a lot of gold in this building!

The House of Representatives and Senate chambers were some of the most spectacular we have seen.

Senate chamber

Fountain view of the capitol

Beautiful historic buildings near the capitol

A view of downtown Harrisburg from City Island

This minor league baseball stadium is the main attraction on City Island.

A grim scene from the Civil War Museum

Can you imagine having your leg amputated before anesthesia, antibiotics, and pain meds? This was nurse Cathy's favorite exhibit.

Sounds of the Civil War

Uniforms and weapons of the soldiers

This realistic looking display took up a full room.

Tow dolly tires shouldn't have cracks in them!

DIY new tire install on the tow dolly

Our observant neighbor, George, who saved us from a potentially costly and dangerous error by noticing our backward lug nuts!

Prime spot with electrical hook up at the Cummins service center
NEW YORK / CONNECTICUT / MASSACH– USETTS
9/14
We paid our tolls and drove through all three states on our way up from Pennsylvania to Vermont and plan to spend more time in them on our way south later this year.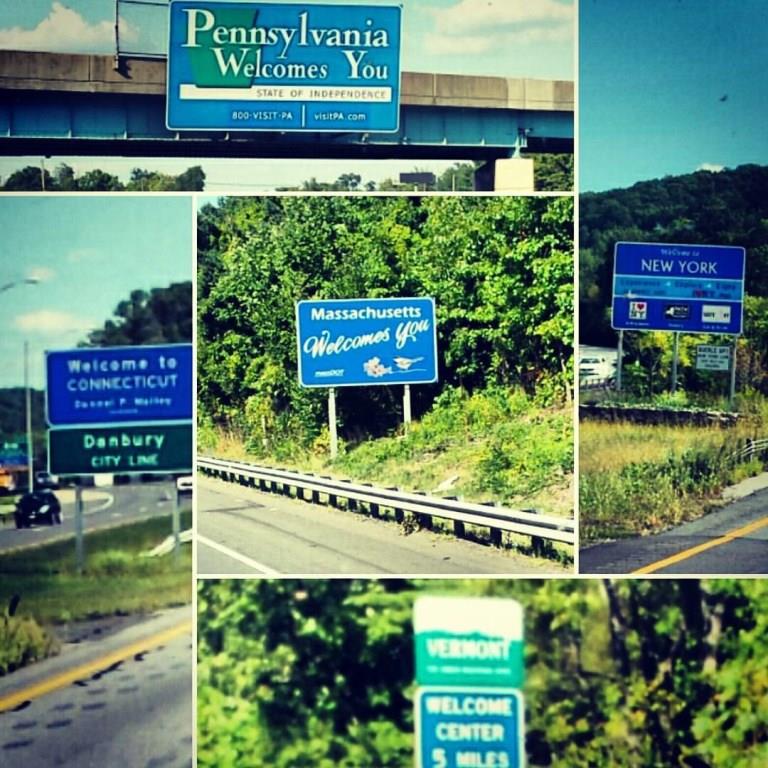 Vermont
9/14 – 9/15
390 miles from Harrisburg, PA to Springfield, VT
Tree Farm Campground
Highlights:

State Capitol in Montpelier – Beautiful, historic town
Morse Farm Maple Sugarworks – Who doesn't love maple syrup? It was interesting learning about how it's made and sampling the different types.
Meeting fellow full time RVers – We ran into our new friends Shannon and Talula of @sweetttravels (Instagram) and discovered we would be on a similar path in the coming weeks. We plan to meet up again in Maine.
Ben and Jerry's Factory tour – Who can resist Ben and Jerry's? We both love learning about how things are made and were also excited that the company came out with a gluten-free, vegan line of products. We indulged in their chunky monkey while we were here. Nom nom.

Our campsite was tucked into a heavily wooded area that was very dark and quiet. We had a great night of sleep here.

The campground store and clubhouse

The capitol building in Montpelier

This giant Civil War painting showcases the contributions of the soldiers from Vermont.

The House Chamber

The reason people come to Vermont

This is where the magic happens. Flexible tubing runs sap from the trees to the processing area.

Our new friends and fellow RVers, Shannon and Talula of Sweet T Travels (Instragram @sweetttravels)

Peace, love, ice cream

Short but interesting factory tour, complete with ice cream samples
MAINE
9/15
138 miles from Springfield, VT to Wells Maine
Campground: Moody Beach RV Resort
Highlights: Yay! We finally make it to Maine! We'll spend the next 4-6 weeks welcoming fall from various locations throughout the state.