Travel Log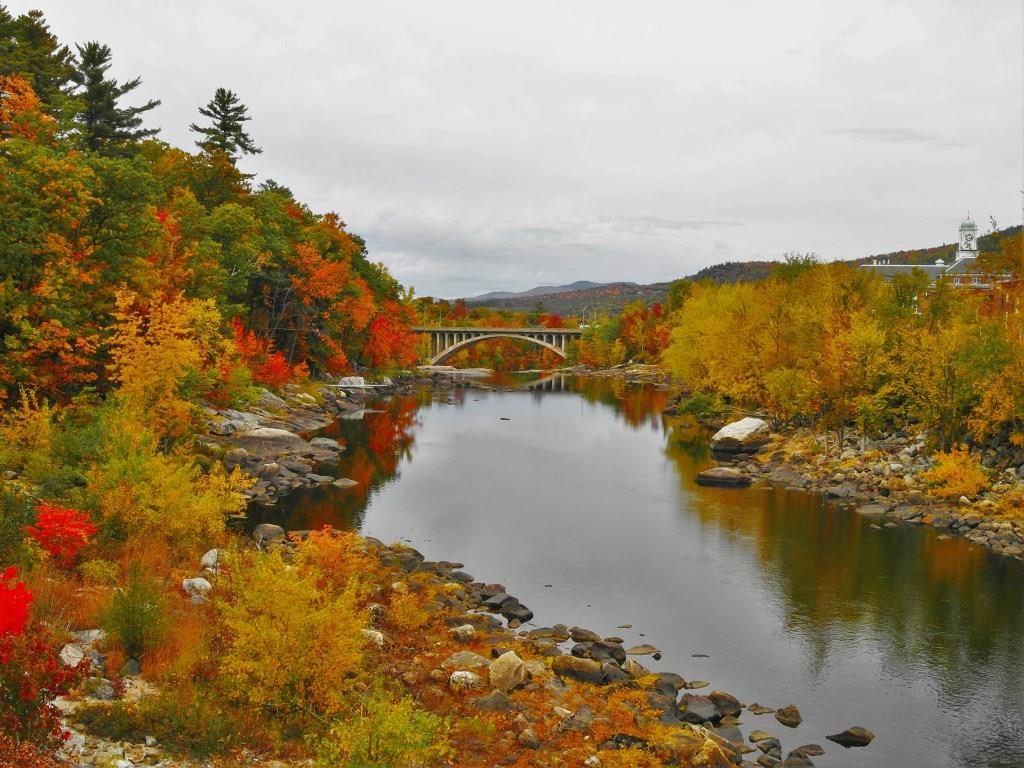 Fall in Maine and the Surrounding Northeast Area (9/15 – 10/20)
We finally got back on track after the big Texas detour and landed in Maine on September 15th. Our plan all along has been to spend fall in New England for the changing of the leaves. It had been unseasonably warm in the 70s and 80s, but it was still quite a relief from the hot and sticky temps and humidity of the Midwest. When we arrived, the foliage had barely changed, as lower temps tend to speed up that process. Whatever the case, we were happy to be back in the cooler coastal region and to breathe ocean air again. By the time we left the northeast, the foliage had changed and was peaking in many areas.
Wells, ME
9/15 – 9/20
138 miles from Springfield, VT to Wells, ME
Moody Beach RV Campground
Highlights:

It was 16 years since our last visit to Maine and it was great to be back!
Jon lived in Maine in the late 80s and early 90s', so we visited his old stomping grounds including Harpswell, Dingley Island and the only known cribstone bridge in the world which connects Bailey Island to Orr Island.
Our niece Ali from Wyoming just started her freshman year at Bowdoin College in Brunswick, so we met up with her for lunch and sightseeing.
We loved driving up and down the coast and stopping at various lighthouses and beaches along the way.

Parallel parking for the RV – now that's a first!

Jon's old hood

The world's only cribstone bridge. Despite a look of instability, it is just the opposite while allowing tides to flow through.

There are boats in tiny harbors around every turn.

The water is work and life for the people who call this area home.

We kidnapped our beautiful niece, Ali, from her college dorm for a day of sightseeing.

Portland Head Light – the oldest and arguably the most photographed lighthouse in Maine

Spring Point Ledge Lighthouse – Half the fun was dodging the open spaces between the giant boulders that pave the way to this unique lighthouse.

Nubble Light House in York, Maine

What a difference a little fog can make! This is the same Nubble Lighthouse under foggy conditions.

Everywhere we went, the shores were crawling with life. We loved this inquisitive little crab.

The rugged shores are one of the most beautiful features of coastal Maine.
Trenton/Bar Harbor, ME
9/20 – 10/4
197 miles from Wells, ME to Trenton, ME
Narrows Too Camping Resort
Highlights:

We were excited to be parked in one place for a longer period of time.
We were parked just a short drive away from Acadia National Park, so we took advantage with several trips into the park.
Our friends Shannon and Talula of Sweet T Travels were staying at an RV Park near Acadia, so we met up with them for a picnic lunch in a great mossy forest area of Acadia. It was so nice to catch up with them again.
Our friend from Arizona, Pat, just moved up to Maine recently so we were able to meet up with him for lunch and sightseeing in nearby Bar Harbor. Great catching up!
We continued our tour of various lighthouses and beaches nearby, hitting up some of the most beautiful and most photographed in the world!
We did a little DIY project in the RV to address the issue we were having with draining batteries. We replaced the two engine batteries and also installed an echo charger which will recharge the batteries when we are plugged into a power source at camp. We drilled into the metal between compartments, spliced wires, and were happy when neither of us electrocuted ourselves and it actually worked!
Cathy has been increasingly tired and gaining weight, both classic signs of decreased thyroid function, or for those without a thyroid, inadequate thyroid hormone replacement. A quick trip to a nearby lab for a blood test confirmed that her thyroid replacement was indeed inadequate, so her endocrinologist in Arizona called in a new prescription to a nearby pharmacy. Cathy started on the increased dose and will continue to monitor her symptoms closely, as well as have her labs rechecked mid-December to determine how the adjusted dose is performing.
During our last week at this camp, we saw our first real hint of the leaves changing color. Beautiful!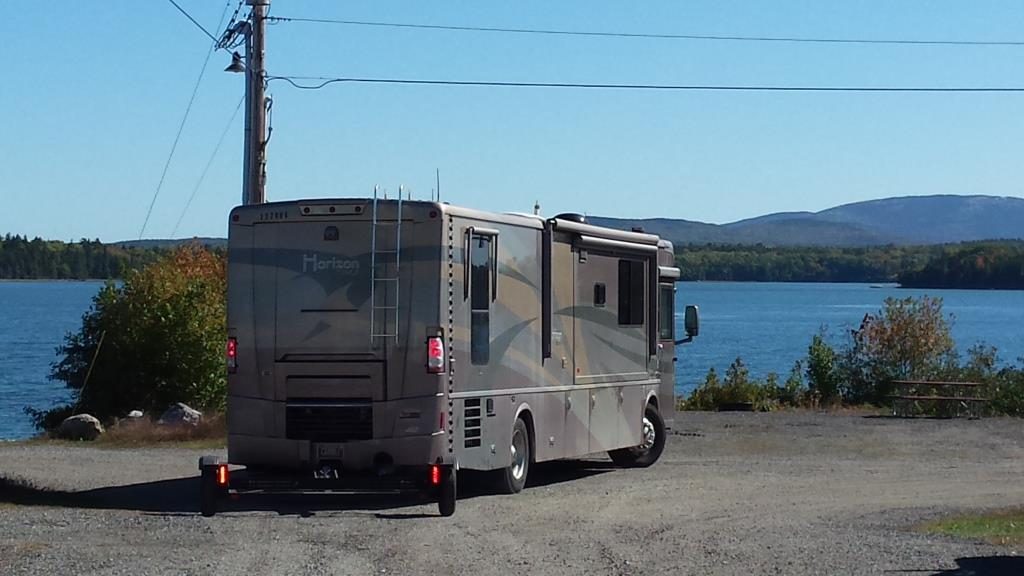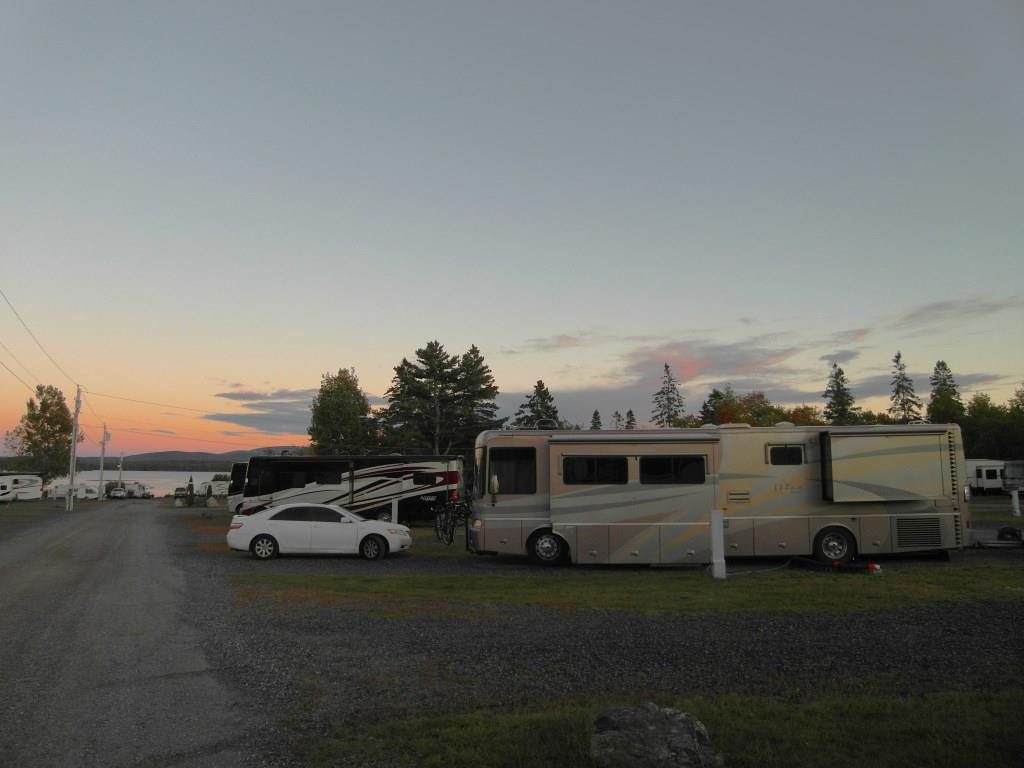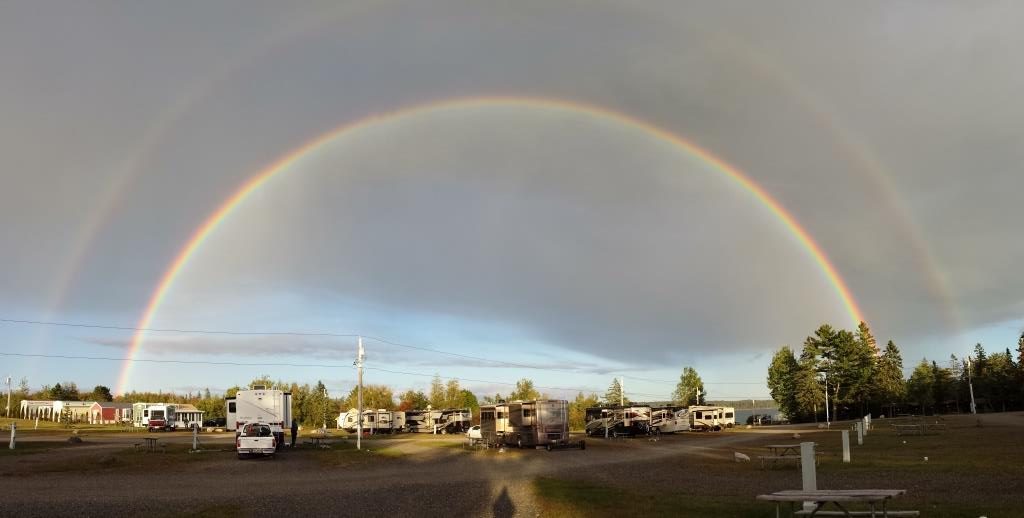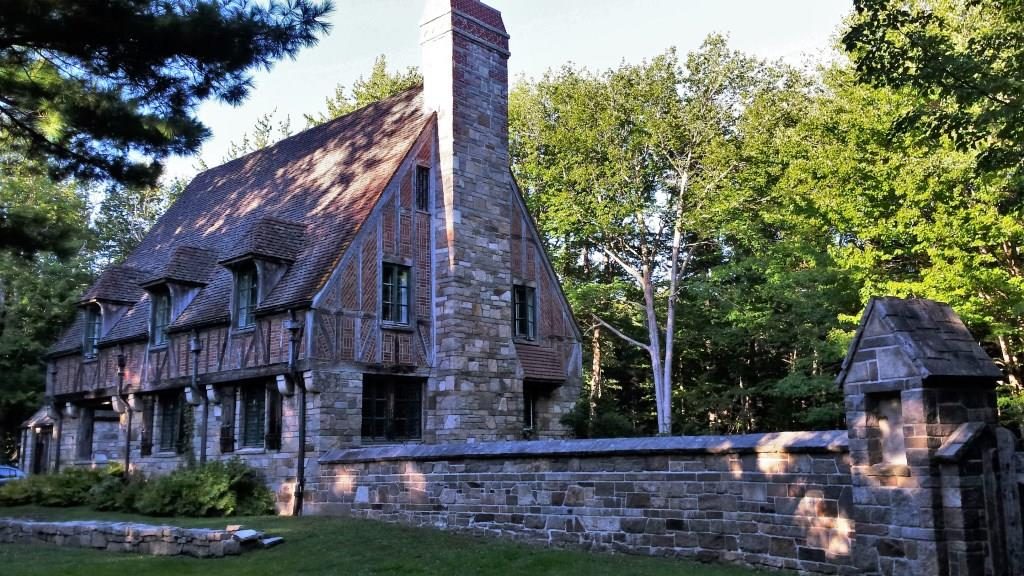 Crowds gather on Cadillac Mountain (Acadia National Park) morning and night to watch the sun rise and set from the highest point on North America's eastern coast.

The sunset from Cadillac Mountain ((Acadia National Park)

The parking lots were overflowing for this sunset.

Sand Beach tucked into a little cove in Acadia National Park

The other side of Sand Beach is rough and rocky. The coastline is incredibly varied within Acadia National Park.

Jordan Pond (Acadia National Park) with Bubble Rock in the background

Jordan Pond was so quiet and reflective and worth a second trip.

Our picnic spot in Pretty Marsh where the forest floors are carpeted with thick mosses.

Bar Island (Acadia National Park) is only accessible for a couple hours a day when the tide is out. A steady flow of tourists makes the trek to explore the island during low tide.

A view of Bar Harbor from the top of Bar Island

Our friends Shannon, Talula, and Uma the dog of Sweet T Travels on the shores of Bass Harbor in Acadia National Park.

Time for a selfie of the girls!

A spectacular view of Bass Harbor Head Lighthouse

Views for days from atop of the rocks at Cadillac Mountain in Acadia

Quoddy Head Lighthouse – the Eastern most point of the United States
Hanover, ME
10/4 – 10/9
164 miles from Trenton, ME to Hanover, ME
Stony Brook Recreation and Camping
Highlights:

The drive to Hanover was absolutely gorgeous! As we headed inland, the leaves popped with incredible color!
The great thing about the New England area is that the states are small and you can see many different areas without lengthy travel. We drove between Maine, New Hampshire, and Vermont to join the other leaf peepers and covered bridge chasers. The scenery was unbelievable! Everywhere we turned, we were presented with a scene from a magazine.
We spent an afternoon in Augusta, Maine and took a tour of the state capitol.

The Maine State Capitol in Augusta

Inside the dome

The Senate Chamber

The capitol veranda

There's something magical about covered bridges in fall foliage.

Some covered bridges can bee seen right next to busy highways and others are discovered on tiny roads off the beaten path.

Simple white houses and still reflective waters add a layer of interest to the fall foliage.

New highways take away street traffic, so some covered bridges are filled with tables for picnickers.

Hilly old cemeteries dot the New England highways.

We stumbled across this fire tower that provided 360 degree views of tree tops for miles.

A short climb up the fire tower provides tree top views for miles into Maine, New Hampshire, and Vermont.

We couldn't get enough of these amazing colors!

Some covered bridges were short and simple.

The Mechanic Street Covered Bridge

A real-life Monet

Another beautiful scene

Fall is here!

Classic

Wow!

Augusta waterfront

Contoocook, NH
10/9 – 10/11
155 miles from Hanover, ME to Contoocook, NH
Sandy Beach RV Resort
Highlights:

We enjoyed more leaf peeping and covered bridges. Every day the leaves get more colorful and there is something magical about discovering a covered bridge framed by the vivid colors.

We always seem to find the best campsites.

Our Garmin RV navigation system tried take us across this covered bridge which was almost 3 feet too short and could handle less than half our weight. Luckily we found an easy way out of this one.

Nature's art gallery through the open windows of a covered bridge

Just across the state border at Rumford Falls in Maine, the leaves were peaking.

We walked here for a few hours just enjoying all the colors.

There were dozens of leaf peepers snapping shots around this church.

A classic New England fall scene

No matter where we are, we always have to stop to love on the kitties and puppies we find along the way.

The New Hampshire State Capitol in Concord was under construction when we were there.
Rochester, MA
10/11 – 10/14
137 miles from Contoocook, NH to Rochester, MA
Gateway to Cape Cod RV Campground
Highlights:

We spent a full day in downtown Boston. We enjoyed the JFK Presidential Library and Museum, toured the state capitol, and enjoyed the many historic buildings and cemeteries around town.
We drove into nearby Rhode Island to visit the state capitol in Providence, drove along the oceanfront to enjoy the beaches and famous mansions, and ended with a lighthouse and sunset on Goat Island.

Tucked away in the woods, but close to town – perfect!

The JFK Presidential Library and Museum in Boston

The American flag is displayed in the 115 foot high memorial pavilion.

Paraphernalia from Kennedy's campaign

The first televised presidential debate was between Nixon and Kennedy.

Recognize any of these from your childhood? Or your parents/grandparents?

Downtown Boston from the museum shore

JFK's favorite boat

Historic buildings fit right in with modern skyscrapers in downtown Boston.

The State House as seen from Boston Common

Palatial rotunda

The artwork here was impressive!

The Senate Chamber

The library

The grand staircase reminded us of the Titanic.

The Hall of Flags

Gorgeous mosaic ceiling under the dome

The State House looks even better at night.

The Granary Burying Grounds where you'll find many names from the history books including John Hancock, Paul Revere, and Samuel Adams.

Rhode Island State House

A nice view of the State House and the surrounding grounds

Governor's room…the portrait of George Washington on the wall was appraised at around $15 million!

Huge chandelier

The State House has a wonderful library

These books list names of Rhode Island residents that died during World War II

This yacht in Newport, RI sleeps 10 and charters for a mere $130,000/week!

Point Judith Lighthouse

Sunset view from Goat Island
Wurtsboro, NY
10/14 – 10/18
266 miles from Rochester, MA to Wurtsboro, NY
Catskill Adventure Resort
Highlights:

The leaf peeping continued in New York. The northern states had a lot of reds and yellows, whereas the trees here were mostly shades of orange and rust. They were different, yet beautiful all the same.
We drove to Hyde Park to visit the FDR Presidential Library and Museum, which was the first of its kind. FDR was the first president to build a presidential library, as a place to hold records and as a gift to the people.
Woodstock actually took place in Bethel Woods, New York. We walked the big grassy hill where over 400,000 people gathered for the festival. The site is so quiet and peaceful now.
The New York State House in Albany was incredible. It looked more like a European castle than a state capitol.

Catskill Adventure Resort

FDR's home on the same grounds as his museum/library in Hyde Park, NY

Woodstock almost 50 years later

Looking at this space today, it's difficult to imagine the goings on here in 1969.

It really is just beautiful farm land out here.

Peace and love

The New York State House in Albany

The design for the staircase was to include 77 faces of prominent figures. Towards the end, carvers included faces of family and friends in their carvings.

The Million Dollar Staircase took 14 years to complete, employed 500 different carvers throughout the years, and cost over $1 million dollars which was pretty expensive for the late 1800s!

Multiple architectural styles are seen throughout the capitol.

The War Room with fantastic ceiling mural

The Senate Chamber

Bear, DE
10/18 – 10/20
216 miles from Wurtsboro, NY to Bear, DE
Lums Pond State Park
Highlights:

The State House in Dover was a neat historic building from the outside, but didn't have a lot going on inside. It did, however, have a nice display about nurses during World War II.
Our camp was a short drive across the Delaware River to New Jersey. We visited a Civil War cemetery, a cool lighthouse, and drove along the shores of the Delaware.

NIce open campground site

Most of the buildings in this area are from the 1700s and 1800s but are still maintained. nicely

The Old State House – Delaware's former capitol building

Inside the Old State House where some of the first laws were made

The John Bell House – the oldest wooden structure in Delaware

Another of the historic buildings surrounding First State Heritage Park near the capitol

This oldie but goodie would make an excellent haunted mansion.

We love learning about the state of nursing through varies periods of our country's history.

Inside the current Delaware State House

The current State House of Delaware

Finn's Point Rear Range Light

Finn's Point National Cemetery

This was the biggest bird we have seen outside of a wildlife preserve. He was keeping an eye on us, while protecting his raccoon dinner. We think it was a golden eagle but are not sure.

The Delaware Memorial Bridge that connects Delaware to New Jersey

Such a beautiful area

We loved welcoming fall from Maine and the surrounding Northeast area. We didn't want to be in the Northeast when the weather got too cold, so it was time to make our way further south in search of warmer temps.